Bluesuits Bespoke Custom Made Women's Business Suits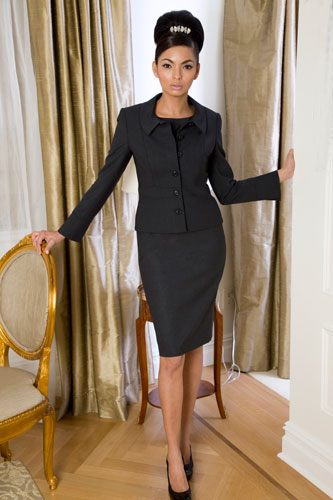 We take the guess work out of Bespoke, Custom Made, Made-to- Measure and Made-to-Order Business Suits and professional attire for women.
We will exceed your expectations
"It was "crunch time" and I needed a well made, classically tailored business suit for an important job interview. Without hesitation the company's owner and her amazing staff figured out a way to not only custom make my (brilliant) suit jacket and skirt in record time, but made sure I felt cared for and treated like an extended member of their family! " -Andrea H, Colorado Springs, CO
To get started with your Custom made or Made-to-Measure Suit Please fill out The Custom Order Request Form.
We will contact you with a free consultation to discuss your specific needs. We will provide all the information you need during the free consultation session.
Unlike other personal tailoring services we take the guess work out of custom made and made-to-measure in the way that we make our custom garments.
You get to try a sample garment in your exact measurement before your final Custom or Made-to-measure suit is made
When you place your for custom made clothing or made-to-measure suits order with Bluesuits, we will make a sample garment with your exact measurement for you and send it to you, or if you are in New York City, you will stop by and try the sample garment before your final garment is cut. If you have had any experience with having a suit custom made, you know that you almost always have to have final adjustments made to your garment, but why have something custom made if it needs adjustments. Isn't that why you chose to have it made to your measurements in the first place? We understand your frustration and that is why we take every necessary step to make a business suit for you just the way you want it. Hundreds of women have ordered perfect fitting custom suits at BLuesuits. We are committed to each and every client and treat them as extended family.
Women's Custom Tailored Suits and Business Attire Made in New York City l Short lead times l Strict quality control
We take pride in having our production in New York City's Garment district and we support Made in USA. Not only because we want to keep jobs in the United States and these factories running but also because we have strict quality control measures and we closely oversee the production of our garments in every step of the way. Bluesuits is one of the very few companies that produces al its garments including custom suits in NYC. As expert fashion designers know it is best to make jackets in a jacket factory, pants in a pant factory and dresses in a dress factory and so on. Among many reasons beyond the scope of this page are the machinery and sewing skills. We capitalize on our over 35 years of experience and business relationship to put your garment in the hands of expert sewers with specialized skills and machinery that best fits the garment you have ordered.. At Bluesuits we stick to best practices so when you receive your Bluesuits garments you will immediately notice the high quality of workmanship that sets us apart. We are the most trusted source for custom tailored suits in NYC.
Oprah's and the First Lady, Michelle Obama's Pattern Maker
Our master pattern maker has been making everything from suits to evening Gowns for Oprah Winfrey., Beyonce and the First Lady, Michelle Obama among many other celebrities. . When you order your custom garments at Bluesuits, the patterns are made and adjusted by the same pattern maker who has made Oprah and the First Lay's garments. However, rest assured you won't have to pay exorbitant prices. We will quote you the cost depending on the scope of the work that needs to be done to have your custom suit made.
Choose your own fabrics, linings and trims for your custom suits and custom clothing.
While Bluesuits offers the best quality European fabrication, you are not limited to fabrics we offer, if you like a color or quality that you don't see in our collection we will send you swatches that you can choose from based on preferences you specify. Our experience however, is that our clients love what we have to offer.
Bluesuits is a leading manufacturer of Women's business suits, jackets, pants, skirts, and dresses. Bluesuits Collection has been the preferred brand since it's launch in 1999, for professional women who look for the tailored classic styles with the highest quality of fabrication and workmanship. Bluesuits custom made women's suits and Custom women's clothing is an extension of our personal service to the professional women who cannot find high quality affordable career wear with proper fit in the stores.
Bluesuits Collection was developed by a woman who understands the unique body shapes of women, their professional wardrobe needs and their high expectations. See what our customers are saying
Our clients range from petite women who are looking for custom suits and clothing for petite women, tall women who have long arms or long legs or long torsos who are looking for custom suits for tall women or plus size women including petite plus size or tall plus size, apple shaped women who are heavier in the middle and need custom fit clothing.
Bluesuits has been custom making clothing for women all over the world for the past 16 years. The process started with some celebrity clients who had special needs, later we had requests for made-to-measure garments from customers who already owned our suits and separates and loved it so much that they wanted other colors not offered in our ready wear collection. Plus size women and full figured women above size 16 who loved our stylish suits and weren't able to buy from our ready wear collection that only offered up to size 16 were also ordering custom made and made-to-measure business suits. We are now offering the option on our web site to have women's business attire custom made in women sizes 0-24.
What is the difference between Bespoke Custom Made and Made-to- Measure?
Custom-made refers to a garment that is made from a custom pattern that is drafted with your unique body measurements and is not based on a pre-existing pattern. A made-to-measure garment on the other hand refers to a garment that is made with your body measurements but the pattern has already been created based on a fit model ( not you). That pre-existing pattern is altered to accommodate your measurements. Some companies misguide and confuse consumers by advertising their made-to-measure service as custom made. When they in fact do not develop a pattern from scratch for your body shape but they simply alter an existing pattern to your measurements and call that custom made.
At Bluesuits when we use the word Custom made we mean that a pattern is drafted with your unique body measurements. For a custom made garment we either visit you or you visit us when all the necessary measurements will be taken, alternatively, you can send us your measurements. We then make a sample in a fabric similar in properties to your final garment and send that to you. Any necessary changes will be made to the sample and transfered to the custom pattern before we make the final garment.
Our Made-to-measure garments can be customized to your specifications. You will find that because Bluesuits line of clothing is based on the unique body shapes of women, we already have styles in every category including jackets, pants, skirts and dresses that will fit your unique body shape so often our customers will customize the color, fabric or trim. We also accommodate full figured women up to size 22 and depending on your needs we would recommend custom or made-to-measure. Petites and tall women are able to find garments from our ready-to-wear collection but we are happy to provide you with a custom-made or made-to-measure garment, be it an interview or work suit or a dress or jacket.
Bluesuits Made-to-Order Garments
Bluesuits offers made-to-order garments in addition to full custom made garments including jacket, pants, dresses and tops.
When our customers want a particular jacket, pant, skirt or dress from our ready-made collection in a different color or different fabric, we offer made-to-order. Our ready-made-garments are made after the customer has tried and approved size and style from our ready made collection.
The made-to-order garment is then tailored for the client. The process is very similar to our full custom made in many regards. Only one garment is cut and sewn for the customer but instead of the garment being based on the customer's unique custom pattern it is made based on our ready made pattern. In the full custom process we draft a custom pattern based on the customer's unique measurement, we then make a prototype and the customer tries the prototype and any necessary changes are made to the pattern before the final garment is cut, in the made-to-measure scenario the ready made garment customer tries is in place of the prototype. Made-to-order garments are not returnable and made-to-order purchased cannot be cancelled once the order is placed. Bluesuits Custom Made Women's Business Suits

Get started by taking a look at Bluesuits Jacket Collection, Bluesuits Pants Collection, Bluesuits Skirt collection, Bluesuits Dress Collection

Fill out The Custom Order Request Form.

You can also give us a call at 212-787-0278 or drop us an E-mail inquiry