Bluesuits Pants for Women with Small Waist, Wide Hips and large Thighs - Pants for Pear Shaped Women
Are you Pear Shaped?
You are a pear shaped if your hips are 2" or more larger than your bust or if you hips are 9" larger than your natural waist.
Challenges you face when looking for the right style pant for your shape( pear shape or wide hips, slim waist.)
You cannot find a pair of pants that fits on the hips as well as the waist. Most pants that fit on the waist don't fit on the hip and if they fit on the hip they are too big in the waist.
There is a gap between the pant waist and your waist.
Women with small Waist and wider hips may also have thick thighs or athletic thighs and the pant legs are normally too tight on the thighs.
What are the best styles for women with slim waist, wide hips and thick thighs?
The best style pants for women with small waist and wider hips and large thighs straight wide leg pants and boot leg pants as both balance the small waist wide hip look. It is really the bottom part of the pant that must be wide not necessarily the thigh area (unless you have thick thighs and need the wide leg), because the wide bottom of the pant visually works with the wide hip (which also visually connects with the shoulder) to balance the curves for the most flattering silhouette.
One of the reasons pear shaped women have difficulty finding well fitting pants in the stores is that most brands do not properly contour the waist. If the waist band is not contoured then the waist will stick out and will not properly sit on the body.
Women with small waist and wide hips also need longer rise because more fabric is needed to spread around. Most brands in the store have very low rise. The waist should be contoured for he best fit and the hips must be cut to fit the curve of your hips. Bluesuits Pants meet these specifications. Our pear shape clients often find perfect fitting pants from our ready made collection.
Avoid pants with side pockets and deep pocket bags. Side pocket pants with deep pocket bags make your hips look wider.
Invest in high quality fabrications such as Tropical wool stretch or Cotton Stretch or 100% wool or Linen/Viscose. While Stretch fabrics work best, non stretch fabrics can be fine as well.
Bluesuits Collection pants were designed to address the various fit and style issues that women face when they shop in the stores, some of which have been discussed above. If you are a pear shaped women we recommend the following Bluesuits pants for you. Bluesuits also provide bespoke custom services to clients who might need custom pants. You can either make an appointment to come in for a free consultation or if you cannot visit us at our New York City location, you can fill out our custom request form and we will follow up with you with a telephone call or e-mail.
---
---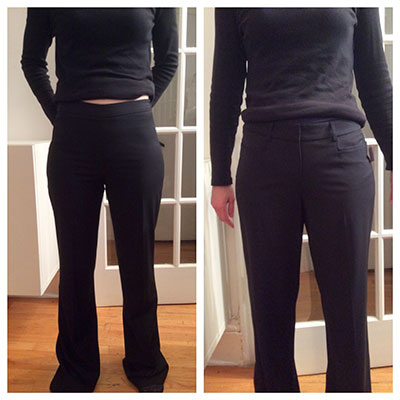 On the left you see a picture of a client at Bluesuits who is a pear shaped women. The left picture shows our client trying on the boot leg pants and the picture on the right shows her in Bluesuits Fly Front pants, both from our Readywear Collection. If you are a full figured woman or a plus size woman with waist measurement larger than 38 inches, you might consider Bluesuits Custom Tailored Pants. Learn more about Bluesuits custom tailored pants