Organic Turkish Cotton Terry Bath Robe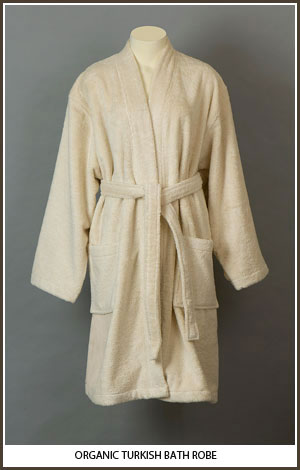 $150 l

$85
Simple yet luxurious
Made of 100% organic 450-gram-cotton terry, these bath robes are made in the legendary region of Denizli, known as the towel capital of Turkey. These Turkish terry bathrobes will make you feel like you are relaxing at the finest hotel or spa. One size and unisex, our Turkish bathrobes measure 48" long and 60" wide.
Turkish Cotton Quality
Turkish cotton is strong and smooth due to it's extra long fibers and becomes even smoother and softer and more absorbent with successive washings.

Turkish Cotton is a better choice for bath robes
Some cotton such as Egyptian cotton is known for its absorbency which makes it a good choice for sheets but not for towels, as it will absorb moisture and feel wet long after use.
Turkish cotton however provides the perfect balance between absorbency and softness and thus the best cotton to use for bath robes. Turkish towels will dry quickly and will not absorb moisture from humid climate.

Environmentally Friendly
All materials used in these products are grown ORGANICALLY according to strict guidelines, using no chemical fertilizers nor pesticides. They are also dye-free, eliminating the release of harmful chemicals during dyeing process and come in their natural Ivory color.
Socially Responsible
The material used in these towels is sourced from small farming communities which are dedicated to supplying the highest quality.
Care for your luxury Turkish Bath robe
Washing tips:
To maximize the absorbency of a towel, add a cup of white vinegar to the rinse cycle, once a month, to restore the towel to full absorbency. The vinegar removes any excess detergent, which can affect the towels' absorbency.
Avoid fabric softeners—they contain silicon that will make the towels water repellent.

Use a lower heat setting occasionally or alternate between air and heat drying.