Tall Women Suits- Custom Suits for Tall Women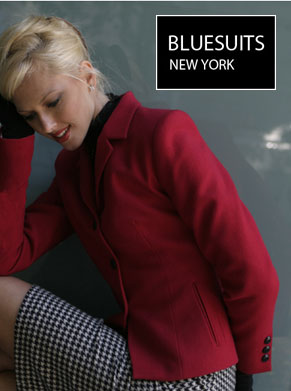 If you are a tall woman, 5'9" or taller, You probably have found it challenging to shop in stores for a high quality designer business suit for tall women that fits your proportions perfectly.
Bluesuits offers custom clothing for tall women that includes women's business suits, women's tall jackets and women's tall pants and women's tall dresses.
"Having gone the custom suit route once before, it was a relief to find someone who specializes in women's clothing and has the experience to make recommendations that work. You also were able to produce the suits quickly and kept me informed every step of the way. I look forward to working with you in the future!" -Kate New York, NY

To get started if you are in New York you can make an appointment to visit our showroom and get started with your custom business suit. Alternatively you can fill out The Custom Order Request Form. We will contact you with a free consultation to discuss your specific needs. We will provide all the information you need during the free consultation session.
Custom Suits for Tall Women
Bluesuits offers custom tall clothing to women in sizes 0-22. Some of our tall clients are sizes 0 and 2 and some are tall plus size. Regardless of you proportions we will make a jacket, pant, skirt, dress or suit that would flatter your body and fit you perfectly. Learn more about Bluesuits Custom clothing for women

Bluesuits is a leading manufacturer of Made in USA women's clothing. Bluesuits Collection focuses on Women' classic suits and professional attire. The collection includes classic women's Business suits, Executive women's suits and separates sizes 0-22.


Bluesuits Showroom on the upper west side on Manhattan, in New York City has been a destination fro the Savvy Business women in New York for the past 30 years.
Bluesuits collection is designed with the unique body shapes and proportions of women in mind. The founder of the company, Jamak Khazra launched her collection after dressing over 10,000 professional women who could not find appropriate styles and fits in the stores.